Landscape Design
Some landscapes linger in the mind: a cottage garden, a quiet park with gentle waterfalls and ponds, a flower bed riotous with blooms. Inspiring landscapes like these don't happen by accident – they are the result of thoughtful landscape design.
Beautiful landscaping can increase our sense of peace and well-being, but it has practical applications as well. Landscape design increases property values. It creates positive first impressions of your home or business. It can provide privacy or security.
Let the professionals at Green Acres use our years of experience in Alaska landscape design to help you create a space that will bring you enjoyment and value for years to come. Contact us today.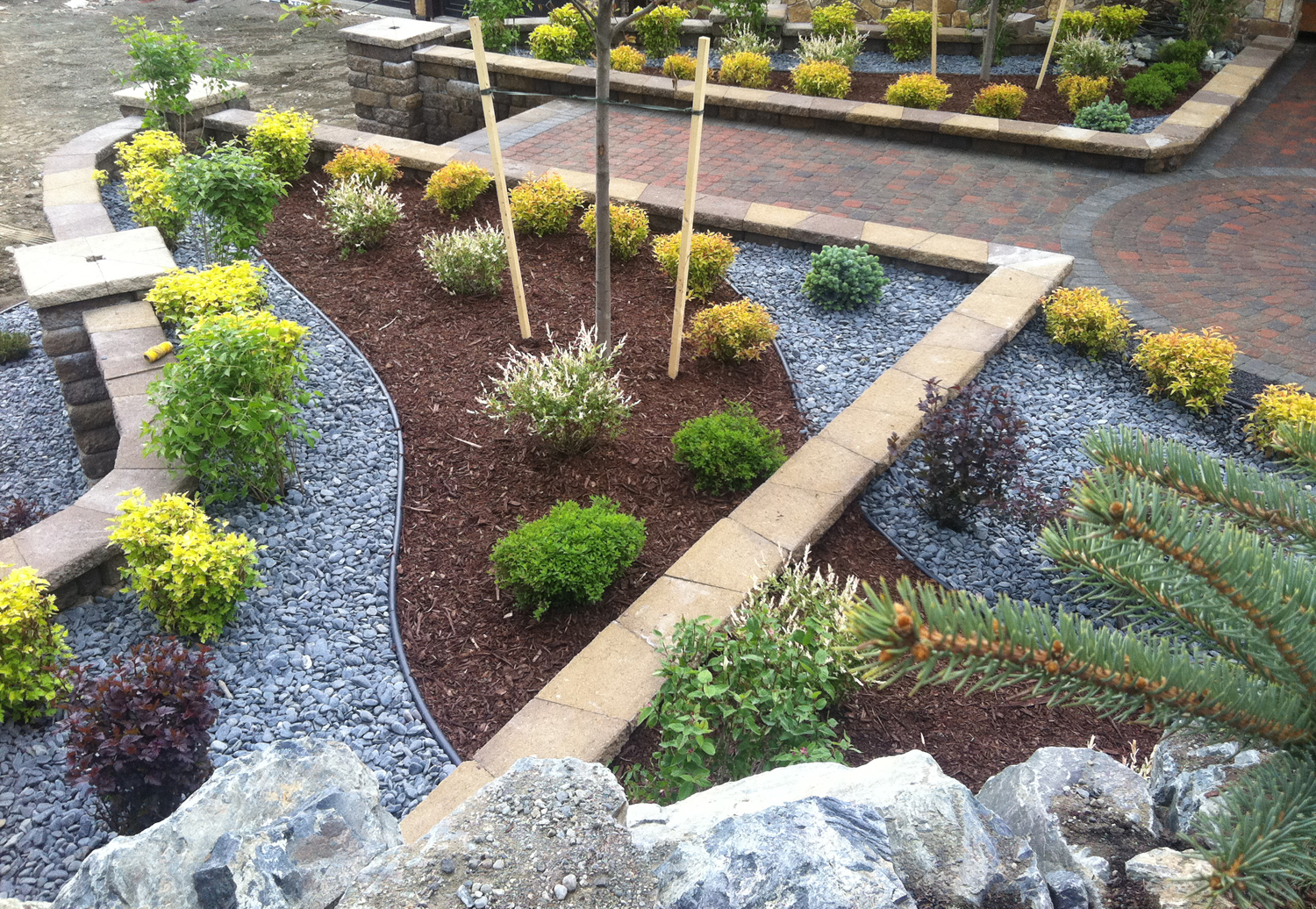 Why should I hire a professional designer?
The professional landscape designers at Green Acres can translate your vision into reality. While drawing on our education, advanced training, and hands-on experience, we also encourage your involvement throughout the process. After listening to your ideas and priorities, we will closely analyze your site, and then create a custom design plan, which you can implement yourself or have us install for you.
How do I choose a landscape designer?
When considering a prospective landscape designer, review actual plans and photos of completed projects to understand the process and the designer's work. Ask for references from past clients and visit some of the designer's projects to see completed work firsthand. We invite you to view our featured projects, browse our client testimonials, and contact us for more information.
How do landscape designers work?
At Green Acres, we offer both design-build and design-only services. This means you can hire us to create a landscape design plan, which you can then implement yourself, or you can choose to have our experienced team of professionals carry out your design plan from start to finish.
A typical design plan:
Details types and quantities of recommended "softscape" materials, like plants, shrubs, trees, etc.
Defines and describes "hardscape" construction areas, such as retaining walls, terraces, patios, pathways and any accessories, like fireplaces or outdoor furniture
May also offer directions for plant care and yard maintenance
Depending on your needs, a design plan can be manually drawn or we can complete a CAD-based landscape plan in complete detail and to scale.
A designer's consultation time is billed by the hour. At Green Acres, our current rate is $100/hour.
Complimentary consultation: We offer a complimentary first-time consultation to our prospective clients. During this visit, which typically lasts one to three hours, we will tour the site and discuss your goals and ideas. Following the initial consultation, we are often able to provide a cost estimate for project completion. If additional consultation time is needed, we will advise you at that time.
Free estimate: We provide free cost estimates to our clients. Project estimates typically take one to two hours, and include measuring, referencing, calculating and writing up the estimate.
Design: If you choose to hire Green Acres to install your landscaping, there is no charge for our design time. If you like our design, but want to have other contractors implement our plan, you may purchase the design plan from us. The costs for a manually drawn design plan typically range from $500 to $2,000, and may take from two days to two weeks to complete.
We can also create a CAD-based landscape plan, in complete detail and to scale. This cost may range from $2,000 to $5,000, and may take from a week to two months to complete. Please note that most CAD-based designs are ordered a season in advance.
Installation: At the completion of your design, we will provide a quote for the project installation by Green Acres. If you choose to hire our crews for installation, you will not be charged for the plan development (note: if you had CAD-based plan created for you, half of that fee will be credited to the project).